X
Fingerless Leather Gloves Black
Fingerless leather gloves are ideal for keeping your hands warm in cold climates whilst also giving you the dexterity to wield weapons and fight effectively.
The gloves have a quilted outer hand to create an authentic medieval appearance and have a leather palm with stitching around the fingers and palm seams.
The fingers end at the first finger joint giving you the ability to draw bowstrings or effectively cast with runes in the heat of battle without having to remove them beforehand.
The gloves are available in sizes S-XL to ensure a comfortable fit for all characters .This model runs pretty small, please make sure to order one size bigger than usual.
Leather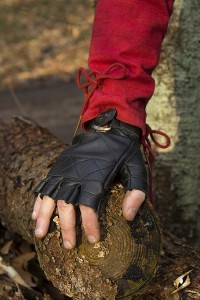 Fingerless Leather Gloves Black
Consegna immediata pronta, tempi di consegna 1-2 giorno lavorativi
X
Medieval Blouse, Pirate Blouse
Blouse with V-Neck which can be tied
suitable for peasants or barmaid
First mates or barmaids alike will benefit from this medieval style pirate blouse, whether you're scouring the seven seas or eavesdropping on regular patrons in your tavern.
This medieval blouse features a wide, open V-neck which can be tied closed to preserve your modesty. The sleeves are semi long with an elasticated cuff so you can pull them if you're getting your hands dirty.
The blouse is made from 100% cotton and available in several colours including hemp, rust, burgundy and black. It's available in S-XXXL sizes.
100% cotone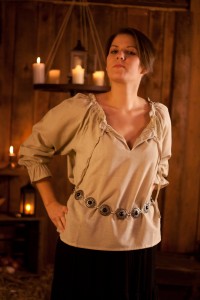 Medieval Blouse, Pirate Blouse
Consegna immediata pronta, tempi di consegna 1-2 giorno lavorativi
X
Medieval trousers with elasticated waist
hand woven cotton
elasticated waist
two pockets
Handwoven medieval trousers to cover every player's modesty! These medieval trousers will help you stay comfortable in any role play situation or themed event, whether you are a humble peasant or the Lord of the Land.
They are available in a range of colours to add some variety to your wardrobe, including bright colours to help you show allegiances to clans or houses of show off your status.
The breeches have an elasticated waist to make them easy to adjust and have two pockets to keep your trinkets, spells or food. They're made from 100% cotton and are available in S-XXXL.
Here are the measurments (appr.):
waist measurement

(max.)

S

85cm

M

94cm

L

100cm

XL

106cm

XXL

XXXL

XXXXL

114cm

120cm

126cm
XXXXL only in dark brown or black
100% cotone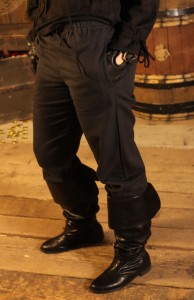 Medieval trousers with elasticated waist
Consegna immediata pronta, tempi di consegna 1-2 giorno lavorativi
stl--description
Maybe you could like these looks, too